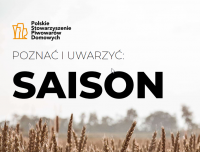 Zapraszamy do pobrania ebooka przygotowanego przez Łukasza Wróblewskiego omawiający w pigułce piwa w stylu Saison. Poniżej kilka słów od samego autora.

"Pamiętacie jeszcze, że rok 2022 upłynął nam pod znakiem Saisona? To właśnie temu stylowi poświęcone jest opracowanie i jest to swojego rodzaju podsumowanie akcji Piwnego Stylu Roku. Znajdziecie w nim wszystko co musicie wiedzieć by świadomie pić i warzyć piwa te piwa oraz 12 receptur, na których przetestowanie czekają Wasze garnki.
Całość liczy 31 stron więc w oczekiwaniu na nowego Piwowara jest co poczytać. Saisony były tradycyjnie warzone zimą więc macie jeszcze trochę czasu by zapełnić piwniczki na lato." 
?
Miłej lektury!
Pobierz i warz wspaniałe piwa