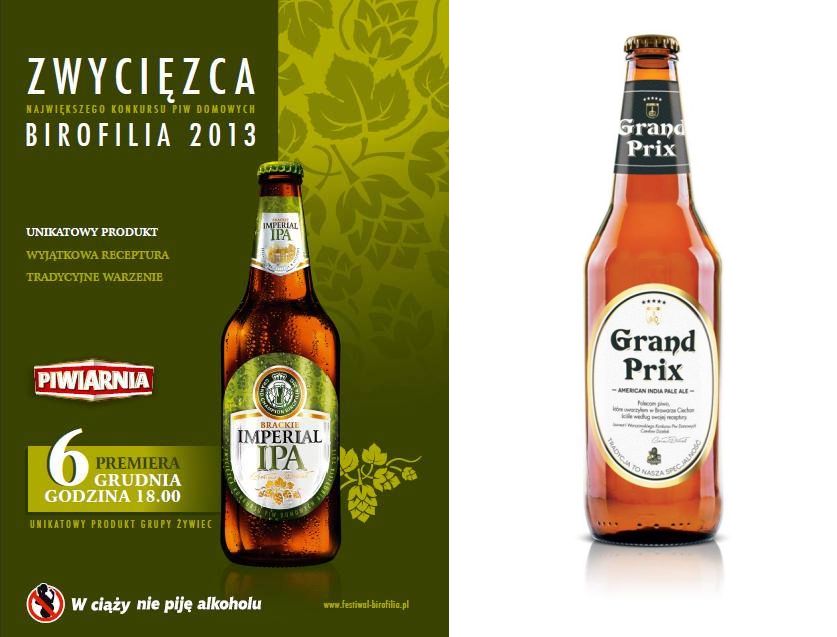 Uczta zaczyna się już dziś wieczorem, kiedy to premierę będzie miało piwo Grand Prix z browaru Ciechan. Jest to piwo w stylu American India Pale Ale, uwarzone według receptury piwowara domowego, Czesława Dziełaka, jako nagroda za zwycięstwo w Warszawskim KPD.
Kolejny powód do odwiedzenia lokalu z dobrym piwem już jutro, a jest nim długo wyczekiwana premiera Golden Monk, kontrowersyjnego piwa AleBrowaru, które najpierw zszokowało etykietą, a następnie w tajemniczych okolicznościach zmieniło styl z Abbey IPA na Saison IPA. Niemniej, zdaniem twórców, piwo jest bardzo dobre.
Tym sposobem docieramy do daty i wydarzenia, o którym wytrawnym piwoszom raczej nie trzeba przypominać. 6 grudnia - premiera Grand Championa Birofilia 2013 i kolejny rozbłysk gwiazdy Czesława Dziełaka. Właściwie sam fakt uwarzenia Imperial India Pale Ale przez wielki koncern piwowarski wystarczyłby do wzbudzenia sporych emocji, ale jak jeszcze dodamy do tego recepturę najlepszego piwa domowego na konkursie Birofilia 2013 i piwowara domowego, który w tym roku wygrał dwa najbardziej prestiżowe konkursy, to szykuje nam się prawdziwa mieszanka wybuchowa. GCh 2013 będzie dostępny w wybranych sklepach sieci TESCO, wybranych sklepach specjalistycznych, w Piwiarniach Wareckich oraz niektórych pubach i multitapach.
Poza wymienioną trójką, można w sklepach szukać kolejnej nowości z browaru Ursa Maior, którą jest tym razem Robust Porter o nazwie Bombina Blues. Piwo ma 6% alkoholu.
Także Browar Bojanowo wypuścił kolejną nowość. Piwo Toporek to strong lager (podobno) podrasowany nieco amerykańskim chmielem, uwarzony na cześć strażaków. Do sklepów powrócił także Black IPA, w poprawionej, ciemniejszej wersji.
Browar kontraktowy Ninkasi zapowiedział, że pierwszym piwem, które zaprezentuje w swojej ofercie będzie Oatmeal Stout. Premiera również na początku grudnia.
Złe wieści z browaru Artezan. Nie napijemy się leżakowanego w beczkach Russian Imperial Stoutu. Beczki nie były zgodne w normami HACCP, a samo piwo nie było zadowalające, więc zostało zutylizowane. Na szczęście są też dobre informacje od "jeżyków", mianowicie jeszcze w tym roku czekają nas dwie premiery, a jedną z nich będzie piwo w stylu sour ale.
Bartosz Nowak